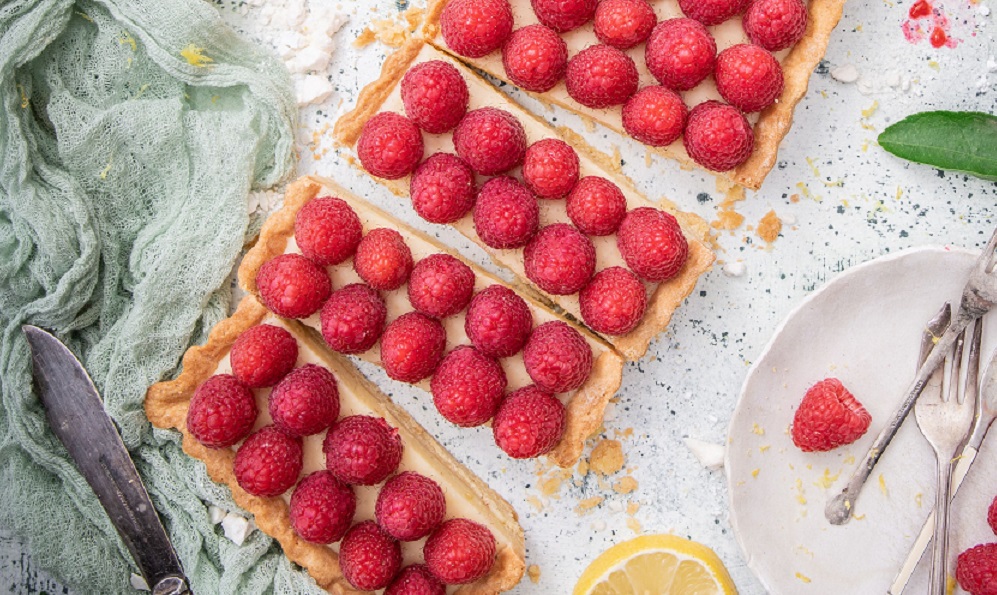 Recipe
Raspberry White Chocolate Lemon Tart
125ml double cream
360g very good quality white chocolate
1 tsp vanilla paste
1 lemon – the zest & juice
3 punnets fresh raspberries to serve
2 tbsp icing sugar (optional)
1 quantity of sweet shortcrust pastry
Sweet Shortcrust Pastry
250g plain flour
100g chilled unsalted butter, chopped
100g caster sugar
2 egg yolks
A pinch of salt
3-4 tbsp chilled water
Instructions
Raspberry White Chocolate Lemon Tart
Pre-prepare one portion of blind-baked sweet shortcrust pastry in a rectangle tart tin with a removable base. Cool then place onto a cooling rack.
For the chocolate filling, put the cream, chocolate, lemon zest + juice & vanilla extract into a bowl that fits over a pot with boiling water (creating a double boiler), & simmer while continuously stirring gently.
Pour the filling into the tart shell. It will look runny, but become a lot firmer as it cools.
Leave to chill on the benchtop until set (3-4 hours).
When ready to serve, decoratively place the fresh raspberries in rows on the tart & finish with a light dusting of icing sugar (optional).
Sweet Shortcut Pastry
Place the flour, butter, sugar & salt in a food processor. Pulse in the food processor until the mixture resembles breadcrumbs. Add the two egg yolks & whilst blending, add 3-4 tbsp of chilled water until the mixture comes together. When the mixture just combines, stop the processor & form a disc in your hands. Wrap in cling wrap & chill in the refrigerator for 1 hour.
Preheat oven to 180°C (350°F). Grease and line a 28cm loose-bottom tart pan with a circle disc of parchment paper. On a surface with a large piece of cling wrap underneath (you may need two pieces joined together), roll the pastry until it is round & 4-5mm thick, using a dusting of flour occasionally. With the cling wrap still attached to the pastry, carefully lift the pastry & gently flip into the tart tin pastry side down. Trim the edges by pressing down with the heal of your hand. Chill for 10 minutes in the freezer or 20 minutes in the fridge. Remove the cling wrap, prick the pasty with a fork and line again with parchment paper once in the tin. Fill with pastry weights and blind bake for 10 minutes. Remove pastry weights & parchment paper then bake for another 5-10 minutes, until just cooked through. Reset your oven to your desired temperature for recipe filling.
Kitchen Notes
You can easily purchase some good quality sweet shortcrust pastry for your base for a quick option.
If you want more of a lemony tang to your tart, add another lemon. Adjust by taste.
Recipe created and Photographed by food stylist Megann Evans