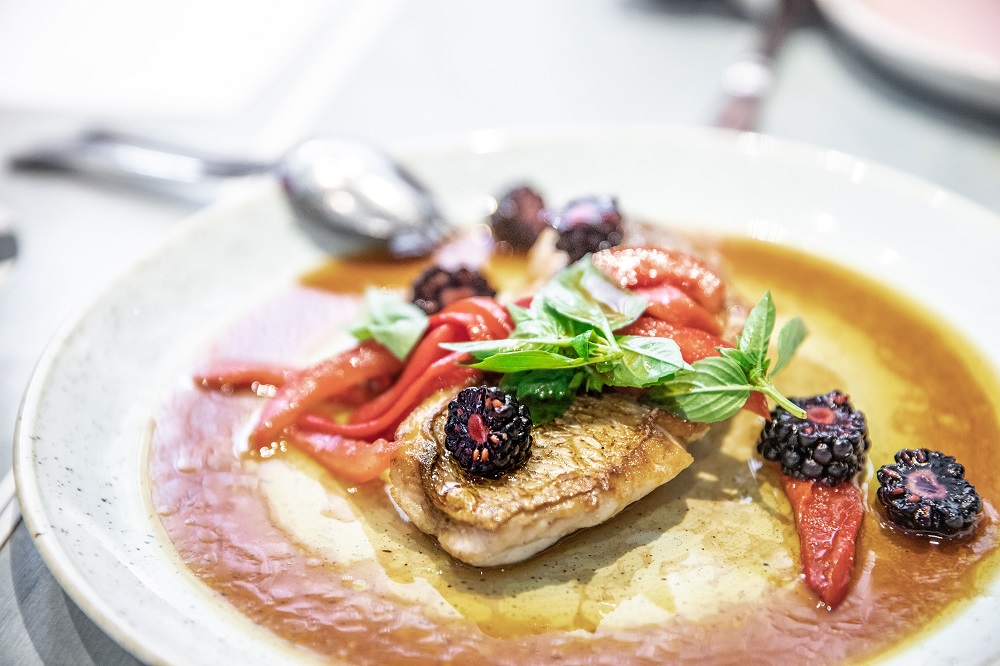 Recipe
Fish fillets
6 180-gram fish fillets skin on
Plain flour for dusting
Red capsicum and blackberry salad
200ml extra virgin olive oil
2 vine ripened tomatoes sliced into thin strips
2 red capsicum roasted peeled and sliced into thin strips
½ bunch basil picked
1 punnet fresh blackberries sliced into thirds
Salt
Pepper
Raspberry vinaigrette
50 ml chilli oil
100ml extra virgin olive oil
2 tbsp sugar
50ml raspberry vinegar
Instructions
Raspberry vinaigrette
To make the raspberry vinaigrette mix all ingredients together and set aside until room temperature.
Red capsicum and blackberry salad
To prepare the salad in a mixing bowl combine tomato, red capsicum, basil and fresh blackberries. Season with salt and pepper and set aside.
Fish fillets
Dust the fish fillets in flour then season with salt and pepper. In a hot pan with a drizzle of oil, place the fish skin side down and cook until golden brown and crisp (about 3 minutes). Transfer to a medium 180-degree oven for about 4 minutes or until just cooked through.
To serve
Place the fish on a serving platter, dress with salad and pour a generous amount of raspberry vinaigrette over both. Serve immediately.
Recipe created by Head Chef Hamish Ingham of Banksii Vermouth Bar and Bistro
Photography by food stylist Megann Evans