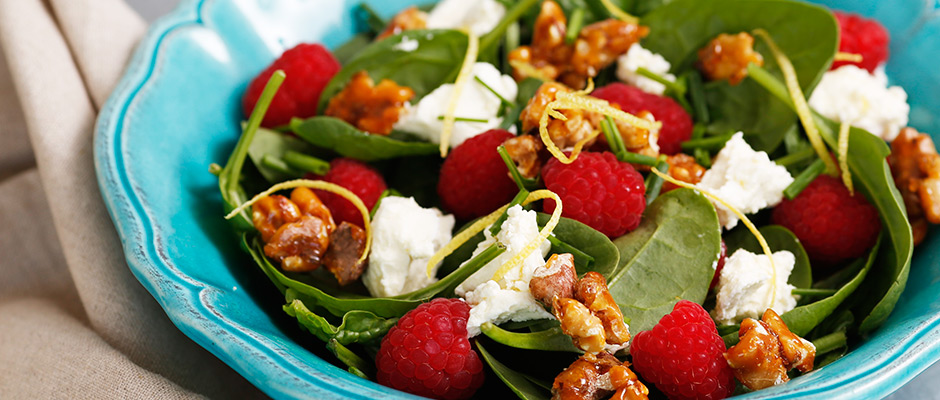 Salad
60ml (¼ cup) olive oil
2 tablespoons verjuice
1 teaspoon Dijon mustard
½ teaspoon caster sugar
100g baby spinach leaves
2 tablespoons chives, roughly chopped
1 lemon, coarsely zested
125g raspberries
100g Persian feta, drained, crumbled 
Salted candied walnuts
2 tablespoons caster sugar
½ cup walnuts, lightly toasted
½ teaspoon salt flakes
¼ teaspoon dried chilli flakes
To make the candied walnuts, heat sugar in a medium, non-stick frying pan over medium heat. Cook, tilting and swirling the pan occasionally, for 2–3 minutes or until sugar melts and a light caramel forms. Working quickly, remove pan and add walnuts, salt and chilli flakes. Carefully toss to cover nuts in caramel, and pour mixture onto a tray lined with baking paper and spread out using a wooden spoon. Allow to cool. Then using your hands to snap the caramel, separate the clusters.
To prepare salad, for the dressing, place the oil, verjuice, mustard and sugar in a small screw-top jar. Season with salt and pepper. Shake well to combine.
Place the spinach in a large bowl. Sprinkle over the chives, lemon zest, raspberries, candied walnuts and feta.
Drizzle over ½ the dressing, serve immediately.
Note: For a simpler and quicker salad serve with plain walnuts rather than candied.