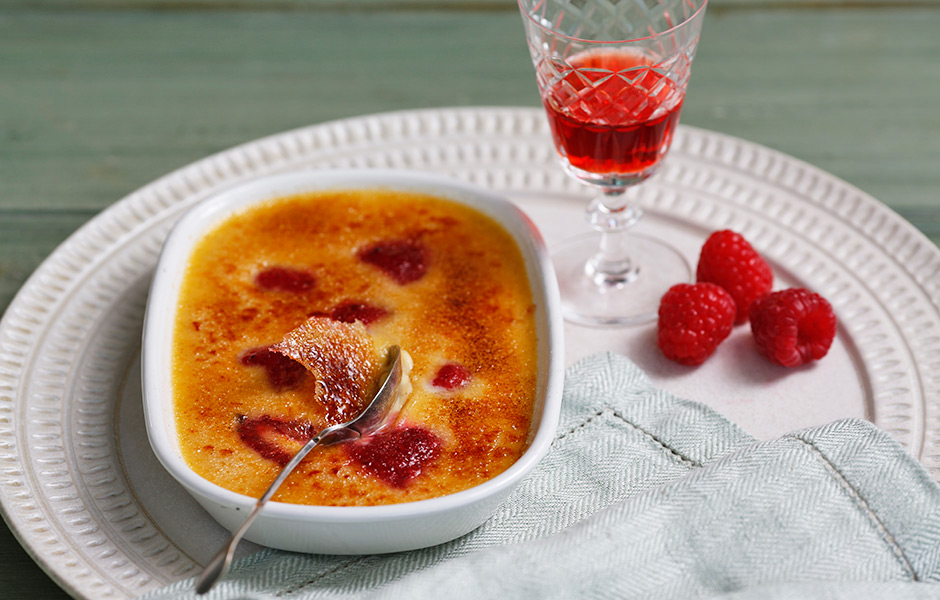 Recipe:
2 vanilla beans split and seeds scraped
1¾ cups (430ml) thickened cream
5 egg yolks
1/3 cup (75g) raw caster sugar
25g raspberries
2–3 tablespoons caster sugar, for glazing
Preheat oven to 140°C. Place the cream, vanilla beans and seeds in a saucepan over medium heat. Bring gently to a boil, stirring occasionally. Remove from heat and set aside for 5 minutes to infuse.
Whisk the egg yolks and brown sugar in a large bowl until well combined. Whisk cream mixture into egg mixture until combined. Strain through a sieve into a heatproof jug, discard pods.
Place four 180ml (¾ cup) capacity ovenproof ramekins into a roasting pan. Divide cream mixture among ramekins, and then divide raspberries between ramekins. Pour enough boiling water into the roasting pan to reach halfway up the sides of ramekins. Bake for 30–35 minutes or until almost set. Allow to cool for 10 minutes in the water bath then remove from pan. Chill in a refrigerator for 1 hour.
When ready to serve, sprinkle 1–2 teaspoons of sugar over the surface of each brulee and caramelize with a blowtorch (alternatively use a preheated grill on high).