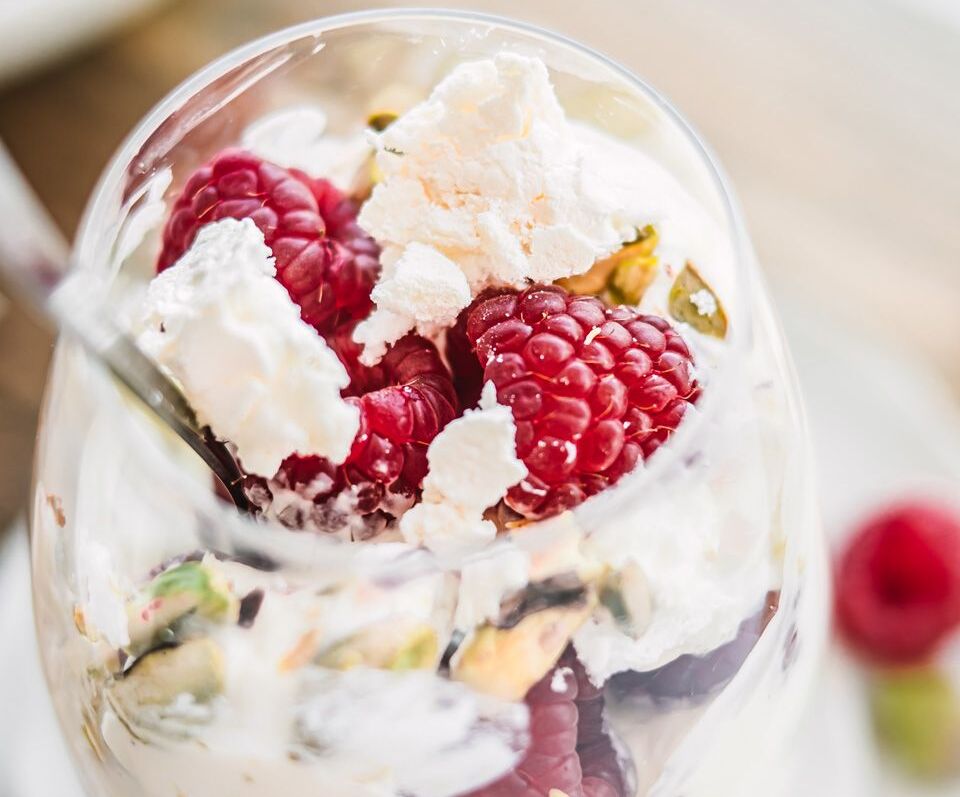 Ingredients
Meringue ingredients
2 egg whites, cold from the fridge
½ cup caster sugar
Yoghurt cream ingredients
3/4 cup plain yoghurt
1/2 cup thickened cream
1 tsp vanilla extract
Other ingredients
Pistachios (a sprinkle)
Instructions

1. Preheat oven to 100C fan forced.
2. Add egg whites and 1 tablespoon of sugar to a standing mixer fitted with the whisk. Whisk until the egg whites begin to turn white and foamy. Slowly add 1 tablespoon of sugar at a time while mixing until all sugar is added.
3. Continue whisking until all sugar is dissolved, and the meringue is thick, white, and glossy. Check this by rubbing a small amount of meringue between two fingers, if grainy, keep whisking.
4. Spoon 4 equal portions of the meringue on baking paper lined trays and set aside to 'air dry' for 10 minutes. Place trays into the oven for 45 minutes.
5. Once cooked, turn the oven off but don't remove the meringues from the oven. Slightly open the door and let them cool before removing from the oven.
6. When you're ready to serve, whip cream until soft peaks form. Then add yoghurt and vanilla and whip until just combined.
7. Break the meringue into crumbs and serve your Eton mess by layering a spoonful of yoghurt cream, fresh raspberries, and broken meringue in a serving glass or bowl. Add another spoonful of yoghurt cream, and fresh raspberries on top of the broken meringue. Sprinkle with chopped pistachios and serve.
Recipe created and photographed by Melanie Lionello for Australian Raspberries and Blackberries