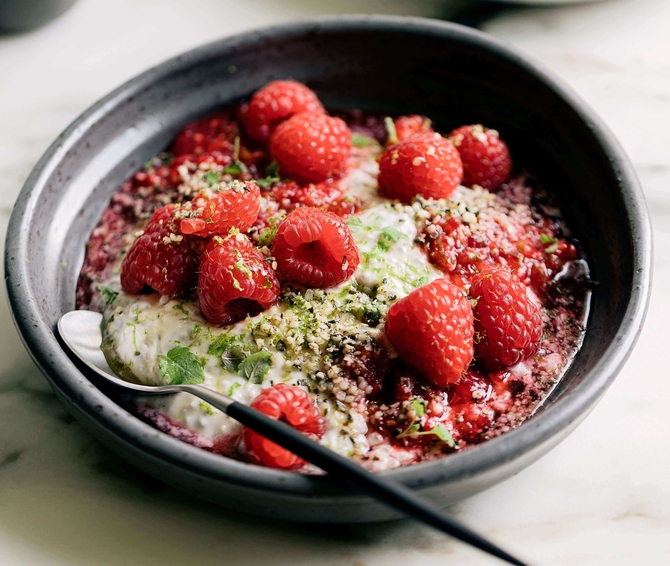 Ingredients
Chia Pudding
2 cups thick unsweetened coconut yogurt
1/2 cup water
1/4 cup pure maple syrup/li>
1 tablespoon vanilla
4 tablespoons chia seeds
125g fresh raspberries
Zest of 1 lime
Juice of 1/2 lime
Toppings
125g fresh raspberries
A few fresh mint leaves
A drizzle of pure maple syrup
A sprinkle of hemp seeds, optional
More fresh lime zest, optional
Instructions

1. In a medium-sized mixing bowl whisk the coconut yoghurt, water, maple syrup, vanilla, and chia seeds together.
2. Cover the bowl and place it in the fridge to set overnight.
3. When you are ready to serve, mash together in a small bowl 125g fresh raspberries, the zest of 1 lime, and the juice of 1⁄2 a lime, then set aside.
4. Scoop the chia pudding into serving bowls and top with the mashed raspberries and lime, a handful of whole fresh raspberries, a drizzle of pure maple syrup, a little extra lime zest, and fresh mint leaves.
5. It is better for the chia pudding to have overnight setting time.
6. *The chia pudding will keep in the fridge for up to 5 days.
Recipe created and photographed by Ashley Alexander for Australian Raspberries and Blackberries