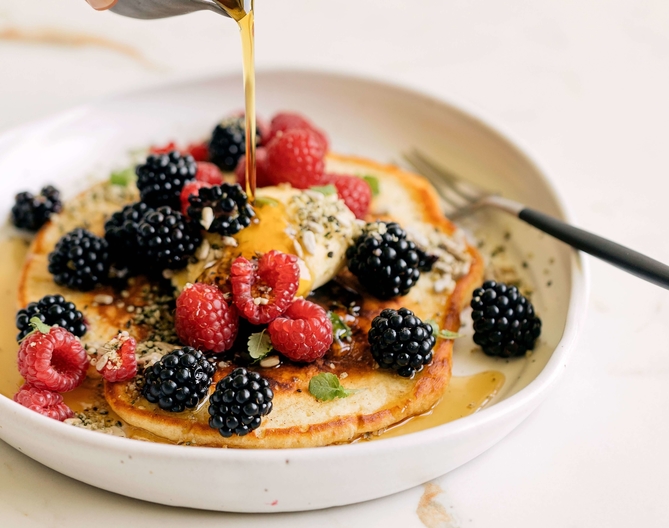 Ingredients
Pancakes
250g plain flour
1/2 teaspoon baking powder
1/2 teaspoon bi-carb soda
2 tablespoons raw sugar
1/2 teaspoon salt
480ml buttermilk
2 eggs
3 tablespoons butter, melted
125g fresh blackberries
Butter for frying
Toppings
4 large spoonfuls of mascarpone or thick natural yoghurt
125g fresh raspberries
125g fresh blackberries
1-2 tablespoons sunflower seeds and hemp seeds
Roughly 1⁄2 cup pure maple syrup
Micro lemon balm (optional)
Instructions

1. In a large mixing bowl add the plain flour, baking powder, bi-carb soda, raw sugar, and salt, then whisk to combine.
2. Make a well in the centre of the flour mixture and add the buttermilk, eggs, and melted butter.
3. Now whisk the eggs into the buttermilk.
4. Gently bring in the flour from the sides and whisk until just combined. You want the mixture to be barely combined and relatively lumpy.
5. Gently fold through the fresh blackberries using a spatula or large spoon.
6. Place a large fry pan onto medium heat, add a knob of butter, and allow to melt.
7. Add roughly 1 to 1 1⁄2 cups of the pancake mixture to the pan to form a large pancake.
8. When you see air bubbles forming on the mixture, flip the pancake over to cook the other side (this will usually take a few minutes).
9. Remove from the pan and repeat with the remaining mixture.
10. Top the pancakes with a dollop of mascarpone or thick greek yoghurt, lots of fresh raspberries and blackberries, a sprinkling of sunflower and hemp seeds, a generous drizzle of pure maple syrup, and a sprinkling of micro lemon balm leaves or fresh mint leaves.
Recipe created and photographed by Ashley Alexander for Australian Raspberries and Blackberries