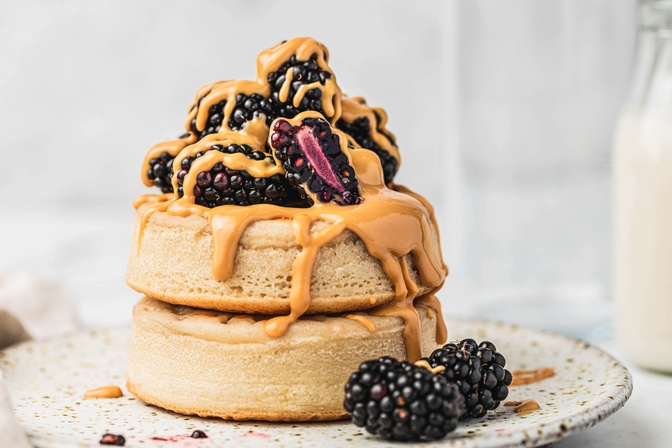 Ingredients
2 crumpets
2 tbsp peanut butter*
½ punnet fresh blackberries, halved
Instructions

1. Add crumpets to a toaster or grill and toast for a couple of minutes, or until warmed through.
2. Meanwhile, place the peanut butter in a small microwave safe bowl. Microwave for 15 seconds then stir and return to the microwave for a further 15 seconds.** Stir the peanut butter again so that it melts evenly (it should be a warm, sauce-like consistency).
3. Top toasted crumpets with the blackberries and drizzle with melted peanut butter. Serve
immediately.
KITCHEN NOTES
* Natural peanut butter will not melt easily in the microwave. If using natural peanut butter, simply spread on hot crumpets and top with blackberries.
** Recipe is based on a 1200 watt microwave. If peanut butter is not melted completely, return to the microwave for 15 second intervals, stirring well between each interval.
Recipe created and photographed by Marie Duong for Australian Raspberries and Blackberries