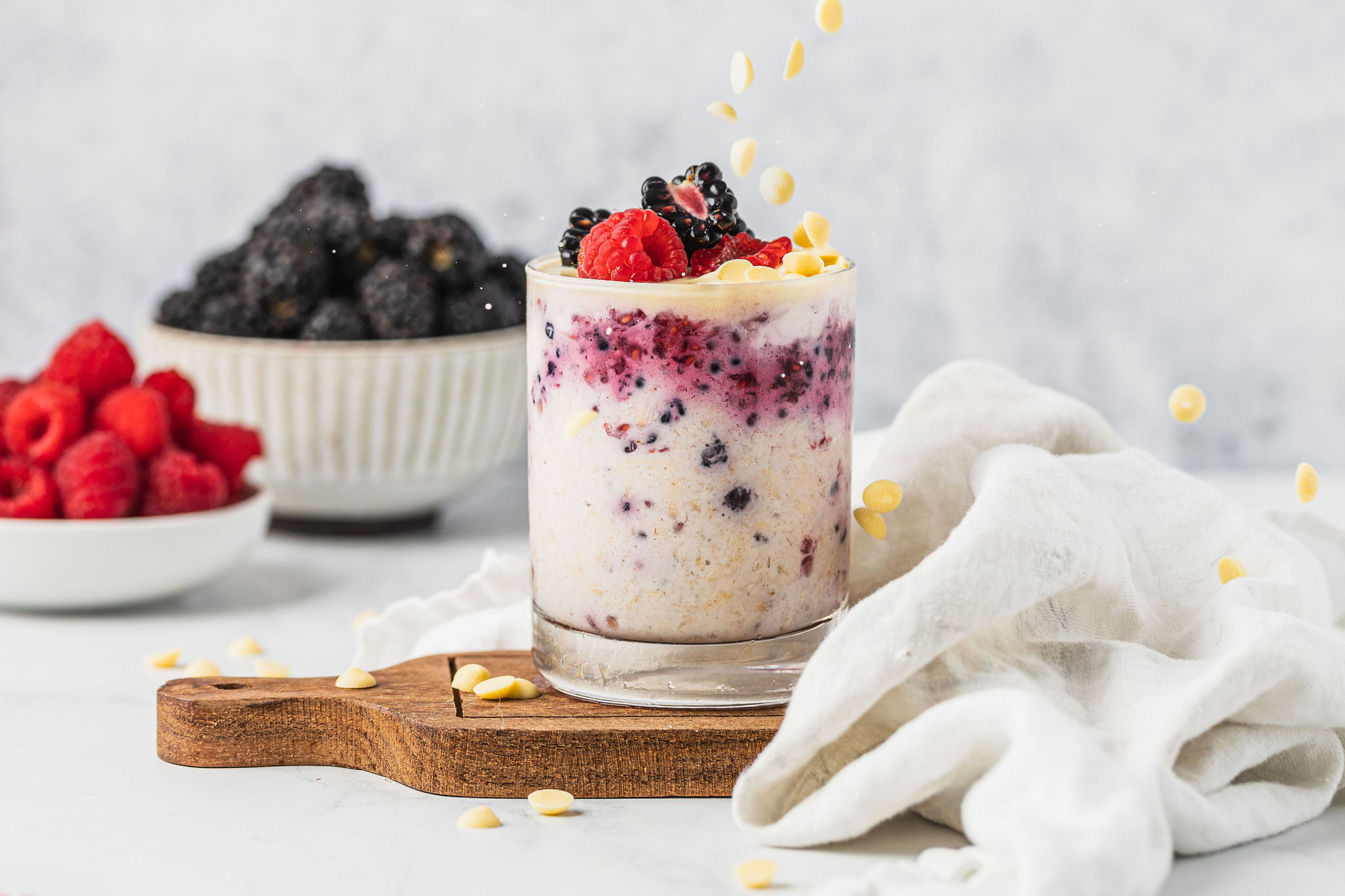 Ingredients
Mixed Berry Bircher
1⁄2 cup (45g) rolled oats
1⁄3 cup (125ml) almond milk
1⁄4 cup (~55g) thick vanilla yoghurt
2 tsp honey (maple, sweetener or sugar)
1⁄2 punnet (30g) fresh raspberries
1⁄2 punnet (30g) fresh blackberries
Cheesecake Layer
1 tbsp light cream cheese, softened
1 1⁄2 tbsp thick vanilla yoghurt
White Chocolate Ganache Layer
2 tsp white chocolate chips
1 tsp almond milk
Instructions

1. In a glass jar or container, add the rolled oats, almond milk, vanilla yoghurt and honey. Stir to combine then fold through half of the raspberries and blackberries. Pressing some with the back of a spoon to release their juices.
2. In a small bowl, roughly mash together the remaining raspberries and blackberries with a fork. Add the mixed berries in a layer on top of the oats mixture.
3. To make the cheesecake layer: in the same small bowl (now emptied), whisk together the cream cheese and vanilla yoghurt until smooth and add in a layer over the mixed berries.
4. To make the white chocolate layer: add white chocolate chips to a small, clean microwave-safe bowl and microwave for 20 seconds. Stir and microwave in bursts of 10 seconds, if required, until fully melted. Add almond milk to the melted chocolate and stir until smooth, and then pour over the cream cheese layer. Cover and refrigerate overnight.
5. To serve, top with fresh berries and enjoy!
Notes

This recipe uses vanilla yoghurt, however Greek yoghurt may also be used. If using unsweetened or unflavoured Greek yoghurt, you may like to add 1⁄2 tsp of vanilla extract and/or extra sweetener, to taste.
Recipe created and photographed by Eats with Marie for Australian Raspberries and Blackberries