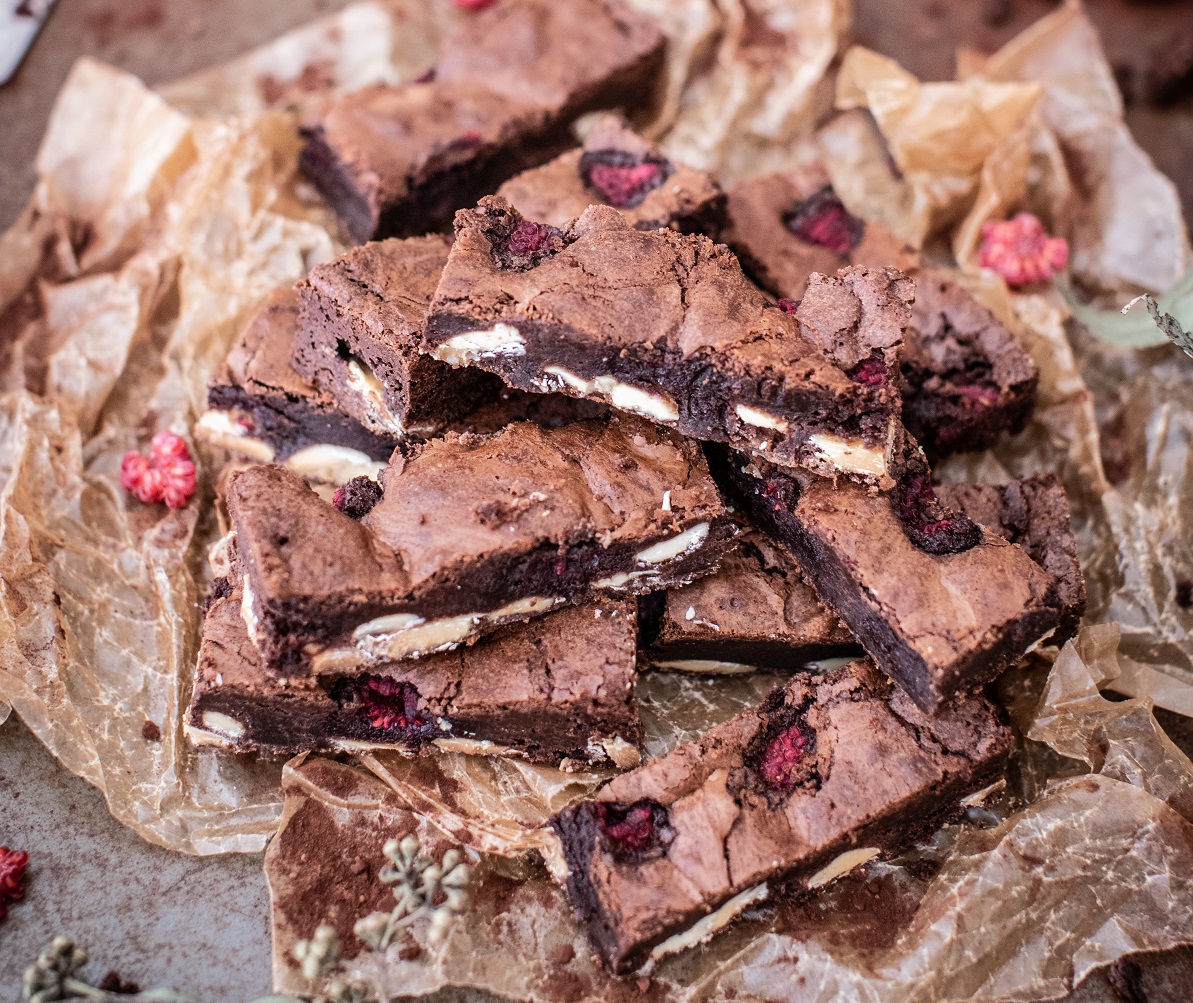 Recipe
180g unsalted butter, cubed
220g dark cooking chocolate, broken into pieces
½ cup caster sugar (keep 2 tbsp aside)
¼ cup brown sugar
3 eggs
1 tsp vanilla bean paste
3 tbsp cocoa powder, sifted
¾ cup plain flour, sifted (or ½ cup gluten free flour)
220g white cooking chocolate, chopped into large chunks
125g punnet fresh raspberries
Instructions
Preheat oven to 180°C. Prepare 30cm x 19cm lamington tin (or a specialised brownie tin) by greasing & lining with parchment paper. Place the butter, broken chocolate, brown sugar & vanilla in a heatproof bowl & position over a saucepan with water (creating a double boiler) on the stovetop over low heat, stirring occasionally until mixture is completely smooth. Sit on the bench to cool slightly whilst you prepare your other ingredients.
Whisk the eggs in a mixer with the caster sugar to create air – this gives the brownie its meringue like crust. While this is beating, fold in the sifted cocoa & flour into the chocolate mixture until just combined. Once the eggs are light & creamy, carefully fold into the chocolate mixture. Add the white chocolate chunks & mix. Pour the batter into prepared tin then place the fresh raspberries & any extra white chocolate (if desired) on top. Bake for 25-30 minutes; keep in mind that they are meant to be soft & fudgy in the middle & will set on cooling.
Serve warm as soft, gooey, fudgey, messy goodness or cool completely in the baking tin & cut into thin, elegant batons.
Recipe created and Photographed by food stylist Megann Evans