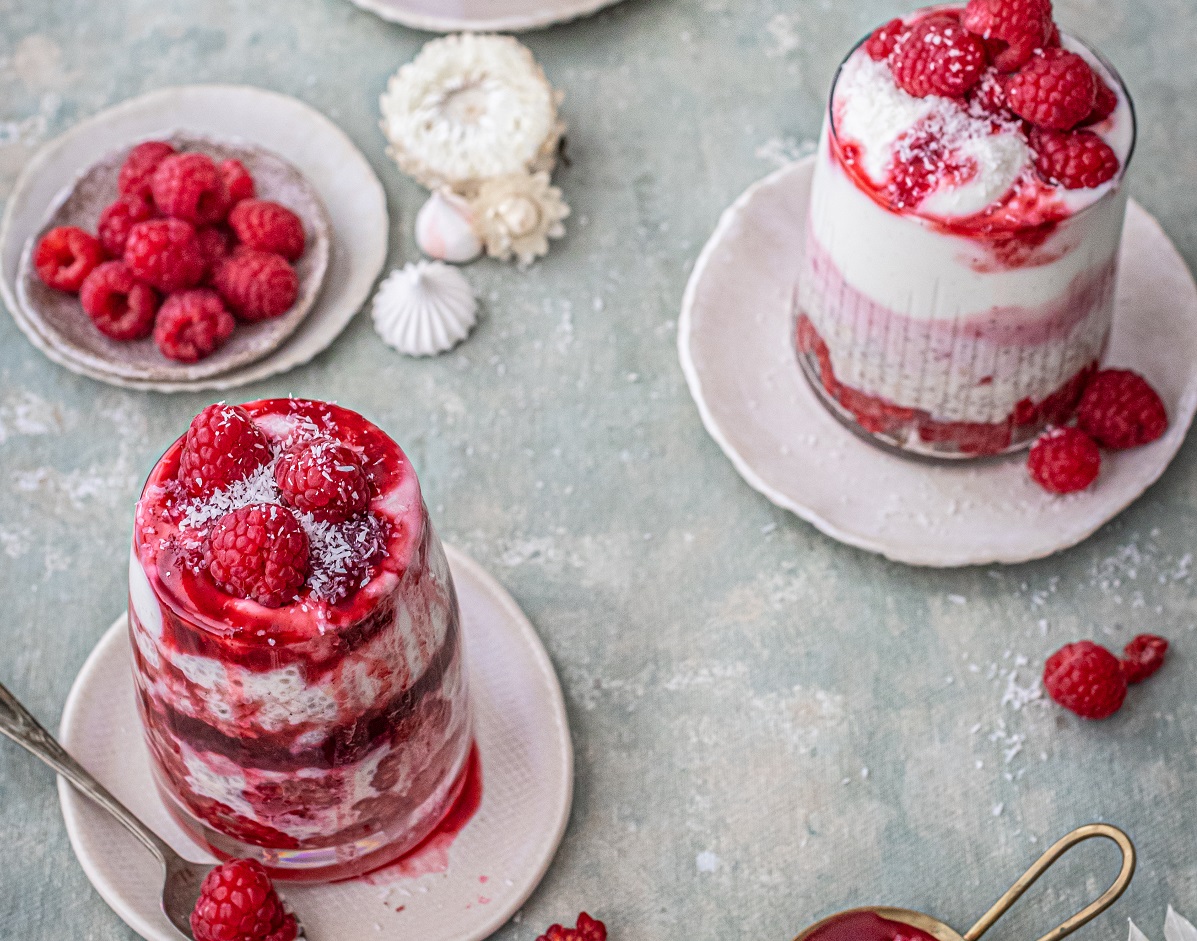 Recipe
RASPBERRY OVERNIGHT OATS
1 cup rolled old fashioned oats
1 cup almond or coconut milk
3 tbsp chia seeds
1 tbsp maple syrup
½ tsp vanilla extract
1 cup non-fat Greek yogurt
Raspberry compote mix
1 punnet of fresh raspberries
1 tsp desiccated coconut
RASPBERRY COMPOTE
1 cup fresh raspberries
¼ cup caster sugar
1 tbsp lemon juice
1 tbsp water
1 tsp vanilla bean paste
Instructions
RASPBERRY OVERNIGHT OATS
Place oats, milk, half the yoghurt, chia seeds, maple syrup and vanilla extract into a bowl and mix until combined. Then layer the oats mixture, raspberry compote, remaining yoghurt and fresh raspberries (leave a few to serve) into each jar in any order you wish! Cover & place in the refrigerator overnight (or minimum 2 hours). To serve, top with fresh berries and sprinkle with desiccated coconut.
RASPBERRY COMPOTE
Place fresh raspberries, caster sugar, lemon, water & vanilla in a saucepan & simmer over a low heat until sugar has dissolved & has thickened slightly, approximately 10 minutes or more. Do not boil. It will continue to thicken slightly as it cools.
Transfer bowl of raspberry compote to fridge and leave for at least 1-2 hours before serving or transfer to a jar for later use.
Tip
:: For extra texture, dust with ground nuts.
:: Store your oats in an airtight container for up to five days in the fridge. They will continue to soften the longer they sit, a bonus if you like them on the creamier side!
Recipe created and Photographed by food stylist Megann Evans