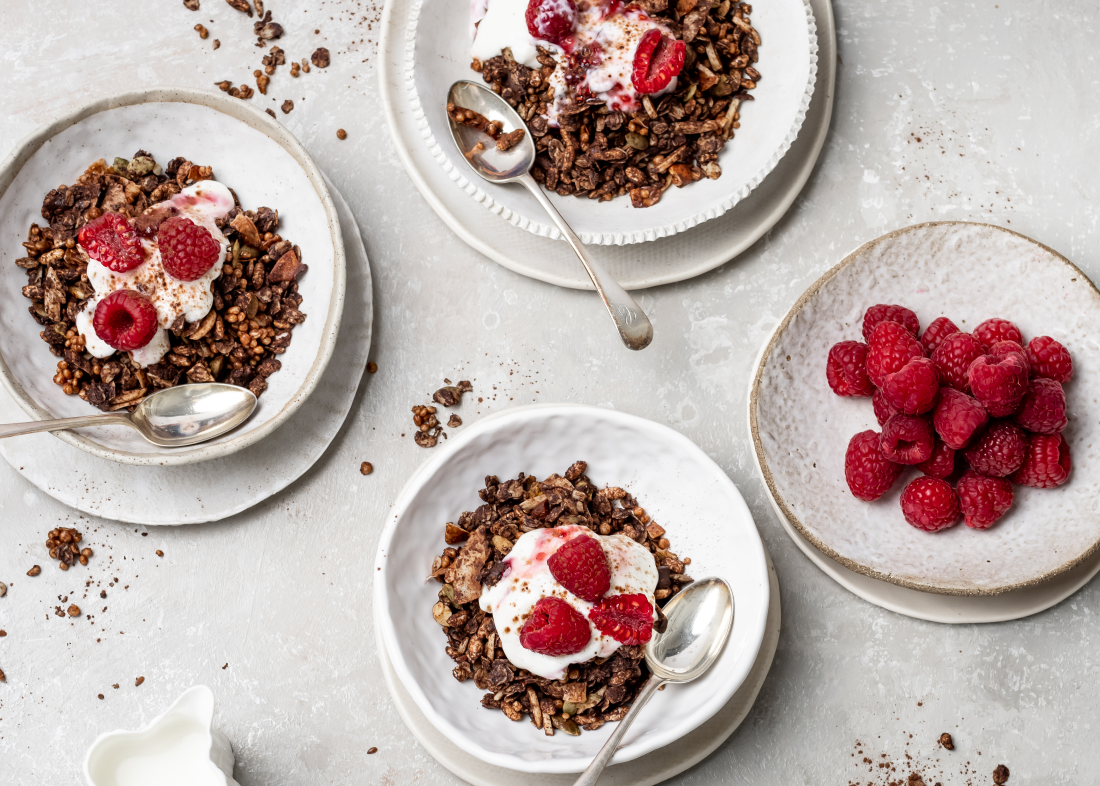 Recipe
2 cups rolled oats
1 cup of puffed rice
¼ cup sunflower seeds
¼ cup pepitas
⅓ cup sliced almonds
⅓ chopped pistachio nuts
¾ coconut flakes
¼ desiccated coconut
⅓ coconut oil, melted
¼ cup maple syrup
⅓ cup unsweetened cocoa powder
⅓ cup brown sugar
1 tsp vanilla bean paste
½ tsp cinnamon
pinch of salt flakes
Topping
1 punnet of fresh raspberries
good quality vanilla yoghurt
raspberry compote (optional)
desired milk
Instructions

Preheat oven to 140°C. Prepare two cookie trays by lining with parchment paper. Place the oats, puffed rice, seeds, nuts & coconut (dry ingredients) in a large mixing bowl, gently mix together and set aside.
Place the melted coconut oil, brown sugar, maple syrup, cocoa powder, vanilla, cinnamon and salt in another bowl. Mix thoroughly together to make a chocolate slurry mixture.
Pour over the dry ingredients and toss through until evenly coated.
Divide between the trays and bake between 30-40 mins, tossing every 10 mins or so – until crunchy and toasty. Turn the oven off and allow to cool in the oven. Store in an airtight container or jar.
TO SERVE: Swirl raspberry compote with vanilla yogurt and top with fresh raspberries and desired milk.
KITCHEN NOTES
want a dairy option? Use coconut dairy free yoghurt and an almond mylk.
test the granola by sprinkling it onto a plate… it should "clink" as it lands.
sometimes for extra chocolate goodness, on the last "toss" I break up and place 70% chocolate bits so it melts… then hardens in delicious chocolatey clumps.
this granola is so delicious, you can sprinkle it on top of ice-cream as a healthier option for desserts!
if you feel you need to "crispy" up your granola again, simply place back onto a try and bake for 10 mins.
Recipe created and Photographed by food stylist Megann Evans