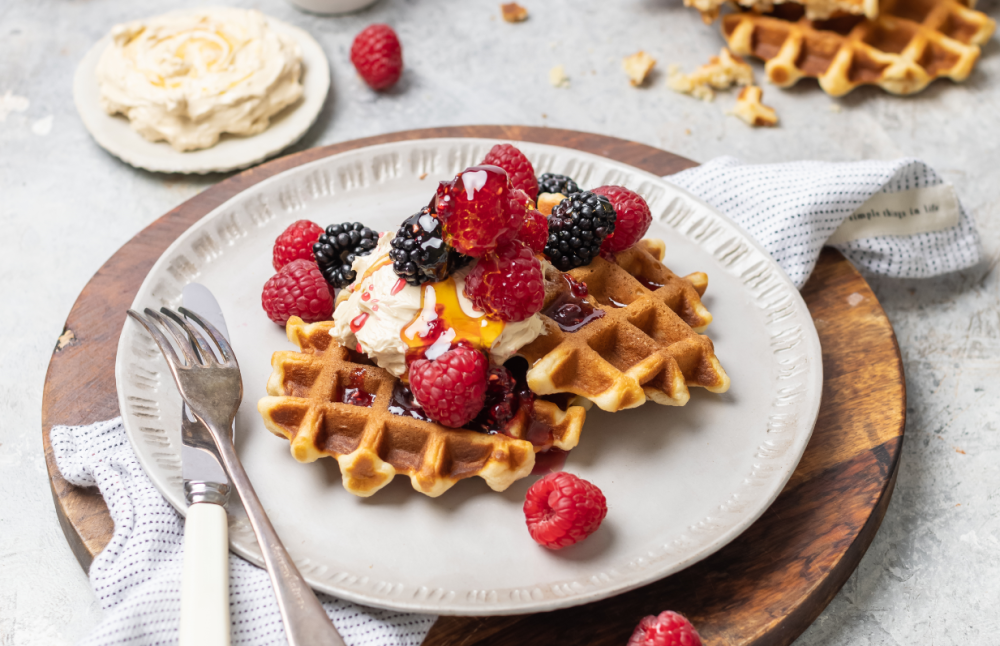 Recipe
2 cups self-raising flour
¼ cup caster sugar
2 Tbsp brown sugar
pinch of salt + pinch of cinnamon
3 eggs, separated
125g butter, melted
1 ¾ cups buttermilk
1 tsp vanilla bean
Topping
250g good quality butter, slightly salted, softened
1 cup maple syrup
fresh blackberries & raspberries
compote, for topping (optional)
Instructions

In a bowl, mix the dry ingredients of self-raising flour, cinnamon & salt. In another bowl, place the egg yolks & sugars and whisk together – gradually adding the melted butter. Once it is well incorporated, gradually add in the buttermilk & vanilla. Add the buttermilk mixture into to the dry ingredients and mix well. In a separate bowl, beat egg whites in an electric mixer for about 2 minutes until soft peaks, then steadily fold through the mixture to make a stiff, smooth batter (like a cake batter).
Pre-heat your waffle iron to about medium and cook to the manual instructions.
Pour ¼ cup batter at a time to make small round waffles, ½ cup to make large square ones (depending on your waffle maker) & cook until golden brown, crispy on the outside + soft on the inside. You can keep your already made waffles warm in an oven on 150°C, using a wire cake rack to place them on for aeration to ensure crispness.
MAPLE BUTTER: While cooking your waffles, whip butter in an electric mixer until it becomes light and fluffy. Gradually add in the maple syrup. Serve immediately or store in the fridge for further berry delights.
TO SERVE: Serve with maple butter, fresh berries and a little extra maple syrup or berry compote if desired.
KITCHEN NOTES
for an easy buttermilk alternative swap out the buttermilk with 1 cup milk and ¾ cream and a squeeze of lemon.
don't have self-raising flour? Swap it out for 2 cups of plain flour with 2 tsp of baking powder
for extra traditional crunch, replace the sugars with ½ cup Belgian pearl sugar.
store: in the fridge in an air tight container for up to 4-5 days or freeze to up to 3 months.
reheat: in a toaster (super easy for a quick breakfast!) or in the oven.
maple butter is amazing with all things berry, such as fresh toast with berries, hot cross buns with berries, pancakes with berries……
MAKE AHEAD?
Make and keep in the freezer in smaller portions by making a round log in glad wrap/baking paper then defrost when needed for the fridge.
Recipe created and Photographed by food stylist Megann Evans