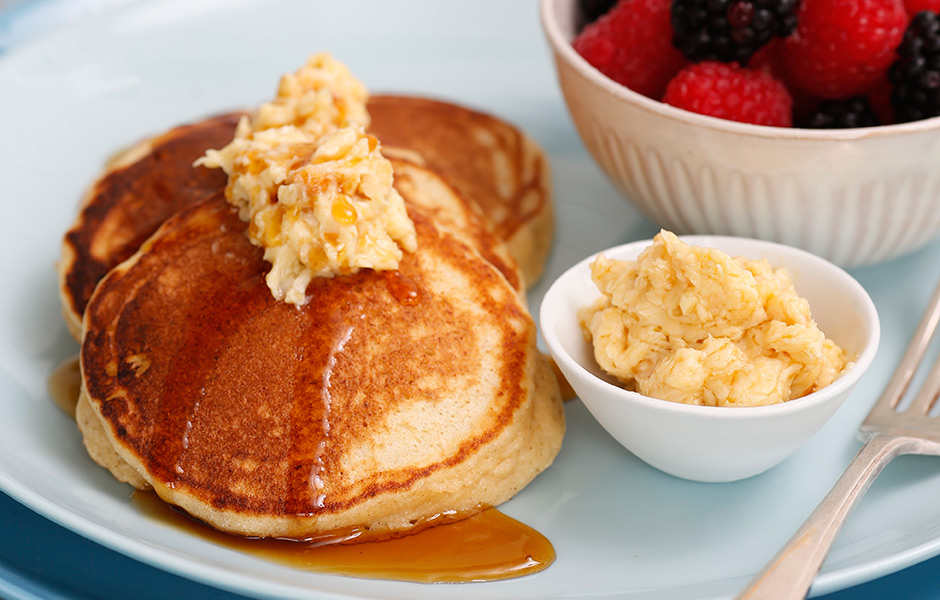 Hotcakes
4 eggs, separated
1 cup (250ml) milk
1 cup (240g) ricotta
50g butter, melted
1½ cups (225g) self-raising flour
¼ cup (55g) caster sugar
½ teaspoon ground cinnamon
Pinch of salt
125g raspberries, to serve
125g blackberries, to serve
Maple syrup, to serve
Honeycomb and maple butter
125g unsalted butter, softened
50g sugar honeycomb, crushed with a rolling pin
2 tablespoons maple syrup
To make the butter, combine butter, honeycomb and maple syrup in a small bowl, cover and refrigerate until ready to use.
To make the hotcakes, place egg yolks, milk, ricotta and butter into a bowl, whisk to combine. Place flour, sugar, cinnamon and salt into another large bowl, add ricotta mixture and mix to combine.
Place egg whites in a clean dry bowl, whisk until stiff peak and gently fold through batter.
Heat a lightly greased large non-stick frying pan over low to medium heat. Cook 2–3 tablespoons of the mixture per hotcake, in batches, for 2–3 minutes each side or until puffed and golden. Transfer to warm serving plates and serve with berries, butter and extra syrup.