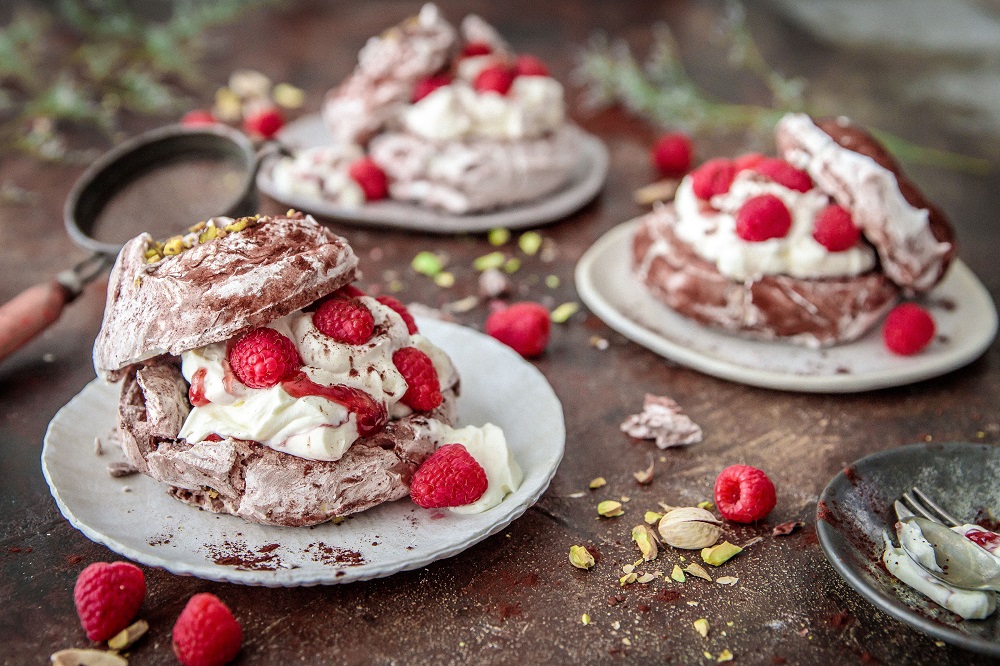 Recipe
Meringue
6 large egg whites
1½ cups caster sugar
3 tbsp cocoa
1 tbsp cornflour
2 tsp lemon juice
1 tsp vanilla paste
To assemble
300 ml cream, softly whipped
2 tbsp raspberry compote or jam
2 punnets fresh raspberries
½ cup pistachio nuts – crushed Cocoa, for dusting
Raspberry Compote

1 cup fresh raspberries
1/4 cup caster sugar
1 tbsp lemon or orange juice
1 tbsp water or Chambord (optional)
1 tsp vanilla bean paste
Instructions
Preheat the oven to 120˚C (250˚F). Line a large baking tray with parchment. Using a stand mixer or electric beaters whisk the egg whites with a pinch of salt to soft peaks then gradually add the sugar until very thick & glossy. Add the remaining sugar with the lemon juice & vanilla & continue to whisk until the sugar is fully dissolved.
Sift the cocoa & cornflour together over the top of the meringue. Using a large metal spoon, gently fold ingredients so it looks like a swirl so it has a marble effect.
Carefully spoon 8 heaped portions of the meringue mixture on the prepared tray, spacing them approx. 4cm apart and keeping the meringue piled high rather than spreading it flat. Sprinkle with a light dusting of cocoa & pistachio nuts.
Bake for 75-85 minutes until the outside is crisp while the centres are still a little soft and they will easily lift off the baking paper. Turn the oven off and leave the pavlovas to cool completely with a spoon in the door slightly ajar.
When ready to serve, whisk the cream into stiff peaks with an electric mixer. Dollop the raspberry jam or Raspberry Compote into the cream & swirl through.
Raspberry Compote
Place fresh raspberries, caster sugar, lemon, water and vanilla in a saucepan and simmer over a low heat until sugar has dissolved and has thickened slightly, approx. 5-10 minutes. Do not boil. It will continue to thicken slightly as it cools. Transfer bowl of compote to fridge & leave at least 1-2 hours before serving.
Assembly
Cut the pavlovas in half & spoon on the cream. Top with the fresh raspberries & some extra sprinkling of pistachios. Top with the other half of the pavlova & another light dusting of cocoa, if desired.
Kitchen Notes
Any undissolved sugar will cause the meringue to weep, so make sure it is dissolved by feeling for granules in the silky meringue.
The pavlovas can be made a day or two in advance & kept in an air tight container.
The pavlovas may have cracks or "character flaws" when cooked. This is part of their imperfect beauty.
Recipe created and Photographed by food stylist Megann Evans