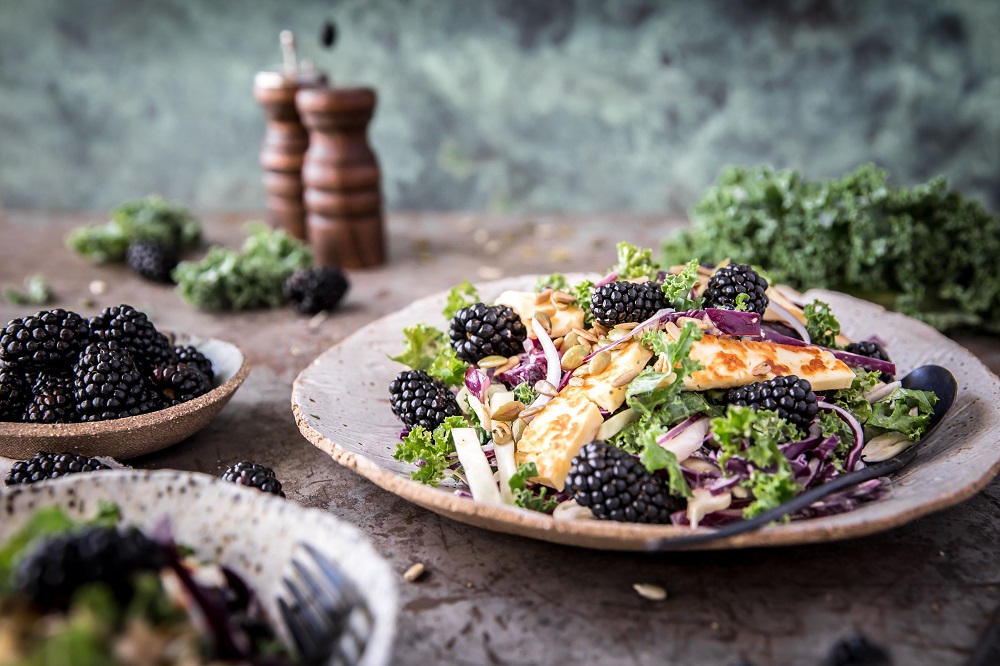 Recipe
Blackberry Kale Salad
1 small bunch kale, stems removed & leaves cut into ribbons or torn finely
½ small head red cabbage, thinly sliced
¼ of a red onion, very finely sliced
1 punnet of fresh blackberries
1 packet of firm halloumi
1 tbsp olive oil
1 tbsp of toasted pumpkin &/or sunflower seeds for sprinkling
1/3 cup Meg's chilli chive mayonnaise

Meg's Chili Chive Mayonnaise
250-300ml grapeseed or canola oil (must be light flavoured)
3 egg yolks
1 ½ tsp Dijon mustard
3 tsp white vinegar
2 tsp honey
2 tsp fresh lemon juice, or to taste.
1 tsp finely chopped red chilli
¼ tsp of dried cayenne pepper
1 tbsp chopped chives
Salt & freshly ground white pepper
Instructions
Blackberry Kale Salad
Place all salad ingredients in a big bowl – kale, cabbage, onion, herbs & chilli chive mayonnaise. Toss well.
Gently toast your seeds in a pan over medium heat, continuously tossing until golden.
Slice the halloumi to 1cm thick pieces, add some olive oil to the pan & gently cook for 3 minutes on both sides or until golden brown.
Top with fried halloumi, fresh blackberries & a good sprinkle of seeds.
Meg's Chilli Chive Mayonnaise
Place the yolks & mustard in a food processor & blend until the ingredients are light & creamy. While blending, gradually add about half the oil in a slow steady stream until thick and pale in consistency.
Once half of the oil is combined, add the vinegar – this will loosen the mixture slightly and give it a paler colour. Continue to gradually add the remaining oil.
Towards the end add the flavouring highlights – honey, fresh lemon juice (or to taste), finely chopped red chilli, cayenne pepper & chopped chives. Season with a generous pinch of salt, a small dash of white pepper and if needed, a little more vinegar. Blend until well mixed through
Kitchen Notes
Room temperature ingredients are best when making mayonnaise.
The mayonnaise will store in a sterilised jar in the fridge for up to one week.
Use a food processor with the small bowl attachment for quick & easy blending.
Mustard adds flavour, but it also helps to keep the mayonnaise stable. As well as the egg yolk, mustard helps emulsify the mixture, reducing the risk of the mayo breaking.
Adjust the heat of the mayonnaise with the cayenne pepper (none at all to as much as you like!).
Don't feel like making your own mayo? There are many store-bought options that make for a quick & easy salad dressing fix in your supermarket.
Recipe created and Photographed by food stylist Megann Evans