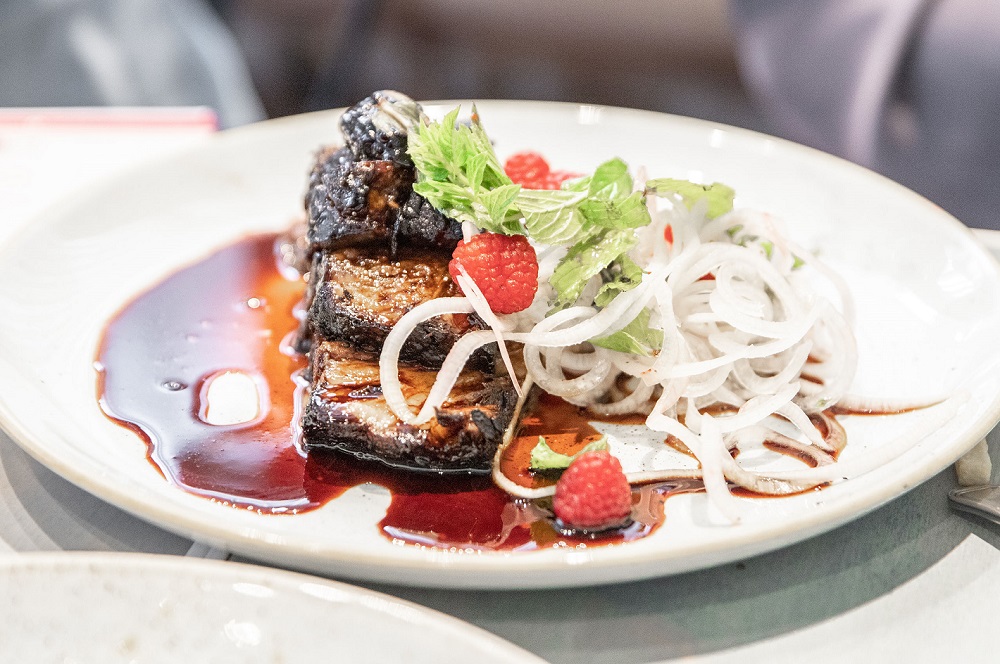 Recipe
Beef Brisket
2 kilograms beef brisket
5 litres water
3 cups red wine
2 cups red vermouth
2 carrots peeled and roughly chopped
1 brown onion peeled and roughly chopped
1 cup ginger roughly chopped
10 garlic gloves crushed
1 leek chopped
1 bunch thyme
Black vinegar glaze
1 bottle Chinese black vinegar (or balsamic vinegar)
200 grams sugar
1 orange zest
4 star anise
2 cinnamon sticks
2 punnets fresh blackberries
White radish and raspberry salad
1 white radish
1 lemon juiced
100 ml extra virgin olive oil
1 punnet fresh raspberries cut in half
Beef brisket
Place all ingredients in a stock pot and bring to a simmer, cook for about 15-20 minutes to generate flavour.
To prepare the beef brisket; cut excess fat away and place in the simmering stock for 2.5 to 3 hours, keeping in mind that the beef should be under the stock at all times. Once cooked remove from the stove and let the beef steep for about 1 hour.
Tip: Place a piece of baking paper over the top of the beef to help keep it submerged.
Black vinegar glaze
Place all ingredients into a heavy based pot, bring to the boil and reduce by a third before setting aside.
Radish salad
Wash and peel radish then slice thinly length ways on a mandoline. In a bowl, whisk lemon juice and olive oil together then season with salt and pepper. Lightly dress the radish strips and toss through the fresh raspberries.
To serve
Pour the black vinegar glaze into a separate pan and bring to the boil. Place the portioned beef into the glaze and reduce further to a sticky glaze. Constantly spoon the glaze over the beef, once you have a sticky sauce place the beef on a serving platter and top with the radish salad. Serve immediately.
Recipe created by Head Chef Hamish Ingham of Banksii Vermouth Bar and Bistro
Photography by food stylist Megann Evans